Child Development Milestones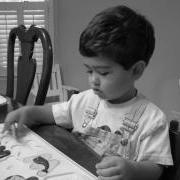 The following developmental milestone charts offer information on children from birth to five years of age in a combination of areas including: Expressive and Receptive Language, Cognition, Oral Motor, Feeding and Speech Development, as well as Social/Emotional and Physical Development. They offer insight into the stages that most children develop and should act as a guideline.
Cognition, Language, Social/Emotional, and Physical Milestones

0–6 Months
6–12 Months
12–18 Months
18–24 Months
2–3 Years
4–5 Years
0–5 Years (Complete)
Early Developmental Milestones - A tool for Observing & Measuring a Child's Developmental Development by Jean Scott, Ph.D | Click here for the entire book or use the links below for the individual areas.
Communication Milestones by Janet R. Lanza, Lynn K. Flahive
Typical Speech and Language Development  *American Speech & Hearing Association