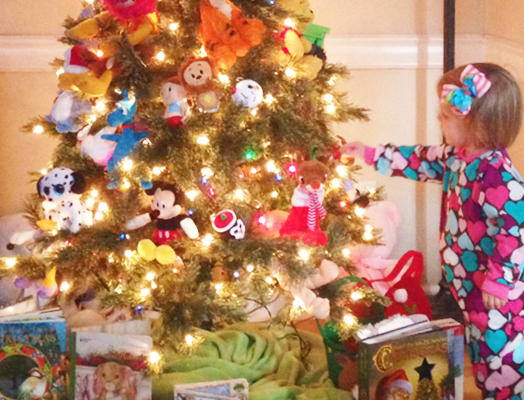 Great tip from a client's family: Let the kids decorate their own tree with their own toys.  Small stuffed animals were used on this tree and the kids are free to take them off and put them back on as much as they want!
Are you overwhelmed by how to address speech goals during the holidays?
Here are a few quick tips and ideas. You'll just need to adjust according to age and skill level:
Encourage manners and using full sentences when talking to relatives such as saying, "I want a…." (cue as needed). With all the added people around there will be plenty of extra opportunities to talk and address goals. Correct misarticulations by using a mirror (as needed).
When watching a movie ask questions about the characters and what they are doing, what they predict will happen next.
Follow a recipe and talk about more/less as it relates to ingredients you're using and the sequence of the steps. Ask questions along the way about 'how' you complete the activity and what actions you used to do so. You can also group/talk about colors based on what you are making.
When making your grocery list, have your child organize the items by sections in the grocery store (fruits, veggies, freezer items, meats, etc.)
Make a craft and talk about the steps you followed and materials needed.
Write holiday letters to family members and/or thank you cards after the holiday to address sentence structure, grammar, and written expression.
Sing Christmas carols and break the songs down into smaller parts (phrases) and pause when you come to a word that is hard to say for reinforcement.
Have a game night focus on following the directions for the game. Have your child "explain" the game to those that are unfamiliar.
While traveling in the car, you can play "I spy". This would require your child to say, "I spy with my little eye…something blue" which would need to be in the car!!! People ask yes/no questions. This works on both sides of the game, the guessers have to generate questions that incorporates vocabulary and the person thinking of the item has to think of words that describe the objects and be able to answer the questions presented.
Read a new Christmas book every night with your child. Have them point to and name new words and vocabulary. For older children, ask them comprehension questions about the story at the end of the book. You can also have them retell the story in their own words.
---
Robyn Drothler and Brook Todd are both speech therapists with separate companies. Connect with them and learn more.
website | www.advantagespeech.com
email | [email protected]
phone | 404-784-1252
website | www.childrenstherapygroup.net
email | [email protected]
phone | 678-858-4777